The world will always need electricians to keep the lights on. In the United States alone, the electrical industry is a nearly $300 billion industry. 
 In fact, the electrical industry is "the background of every project" within the field of construction, says Troy Deats of Commonwealth Electric Company, and the skills that electricians contribute are "the life blood" of projects.
 These skills include "security and data, and not just power, but also all the other low voltage systems that are crucial" to a construction job, Deats continues.  
 Every day, new technologies emerge, and electricians will need to keep pace with increasingly complex and innovative electrical systems. Consider these examples:
     

Smart Home Technology

: Refrigerators can tell you when you're running low on milk or eggs.  Smart phone in hand, you can see who is at your front door or adjust your thermostat to ensure your arrival home is a comfortable one.  Electricians will be installing Internet of Things (IoT), or Smart Home Technology, in new construction more and more.  Plus, they will be retrofitting older homes to bring them into the 21

st

century.

     

VR Training

: Virtual reality training will help reduce on-the-job learning injury by delivering instruction in a safe, virtual space with zero exposure to live electricity.  As such, VR training is a great way to supplement hands-on instruction from a licensed electrician. 
 That's why it is more important than ever to become a licensed electrician. With over 8000 hours of instruction, including 900 hours of classroom learning, licensed electricians are highly trained. And all this training translates to increased safety during construction and after the job is completed.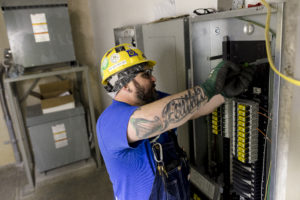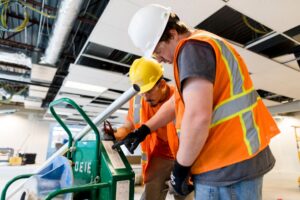 Building Omaha offers its electrical apprentices the best training available, the nationally recognized Electrical Training Alliance, to ensure its graduates are the next generation of leaders in the electrical industry. 
 Our training combines classroom instruction with on-the-job learning from licensed electricians.  As an apprentice, you'll earn as you learn and graduate debt-free with career that will both reward and challenge you. 
 "I get the chance to work with my hands. I get to use my brain. I get to solve problems. The benefits are amazing, the pay and compensation is great – the retirement, the healthcare…I couldn't be happier," says apprentice Scottie Broxterman.
You'll have the satisfaction of a rewarding career and the security of an established wage package that includes: 
   

a generous salary, 

   

guaranteed 40-hour work week with optional overtime,

   

100%-funded healthcare for your entire family, and 

   

100%-funded pension. 
Building Omaha's apprenticeship program accepts application year-round, so don't wait.  Apply today for a bright tomorrow.    
—Building Omaha is a partnership between the National Electrical Contractors Association (NECA) and the International Brotherhood of Electrical Workers (IBEW).—