Becoming a licensed electrician requires a combination of formal education and on-the-job training, including a time of apprenticeship.  Consider an apprenticeship a time of active learning; you are putting into action the concepts you learn in class under the supervision of a licensed electrician.  
Building Omaha offers a nationally-renown apprenticeship program.  Applicants choose between three- or five-year programs and enjoy a combination of classroom instruction and training completed on job sites alongside seasoned pros. And, you'll not only be working your way to a successful, steady career, but you will be earning a salary as well!
Wonder if you are a good fit?  Here's a handy
checklist of essential skills electrical apprentices should have
:
   

Attention to detail

: It's safety first in the electrical field.  You must strictly adhere to electrical codes and regulations because short cuts can get you, or your clients, injured.  And you must be able to interpret electrical diagrams and blueprints, which can be very intricate.  Electrical diagrams (or schematics) are an electrician's roadmap for a building's electrical circuit.  Being able to read one is extremely important because it will help you identify faulty components, troubleshoot systems, and improve safety.  Blueprints are layouts of buildings and show the locations of outlets, switches, and other electrical components. 

   

A problem-solving mindset

: Speaking of troubleshooting… A gifted electrician should be proactive, not just reactive.  He or she needs to be able to identify the cause of a problem, not simply fix it.  In figuring out the "why," an electrician goes beyond a band-aid approach (or, in this case, an electrician's tape approach!) to prevent a potentially dangerous situation in the future.  

   

Effective communication skills

: It's not uncommon for electricians to collaborate in a team setting.  Clear communication and teamwork are necessary on job sites.  Be willing to pose questions.  Ask for feedback.  Clarify what you learn in the classroom as it applies to the job site.  

   

Curious mind

: The electrical field is constantly changing.  Advances in technology are continuous, so your learning needs to be, too.  Even after graduating from the formal apprenticeship program, you will have ample opportunity to continue your electrical education through Building Omaha's ongoing professional development opportunities.  Learning is a journey, not a destination.
Building Omaha's apprenticeship program accepts applications year-round.  So, don't wait to start the future you want. Apply today and earn while you learn.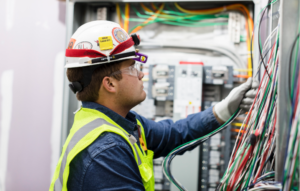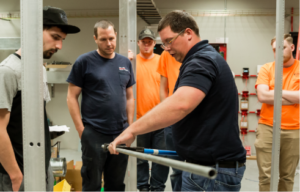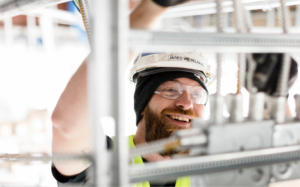 Building Omaha is a winning partnership between the National Electrical Contractors Association (NECA) and the International Brotherhood of Electrical Workers (IBEW).  Building Omaha: A partnership that powers our city.