The rising tide lifts all boats.  
The "rising tide" in this saying is a solid economy.  And the boats?  That's us, the participants in the economy.  
And what is one way to help this tide rise and thus improve our financial standing?  Education. Or in the case of Building Omaha, continuing education.  Because when one person grows, the entire company grows.  
These are just a few of the ways Building Omaha members improve their own job performance, raising up fellow members in the process.

NECA NOW Conference
Mike Bunach and Tom Bryson of NECA Nebraska Chapter and Neil Hansen from Commonwealth Electric traveled to San Antonio, Texas, to attend the NECA NOW, an executive leadership conference, from April 17-20. 
This dynamic event focused on leadership development.  Keynote speakers included Leonard Brody, Ryan Leak, and Marty Moore.  Break-out sessions covered such topics as business development, operations, financing, and personal development.  
But this is no cookie cutter experience for participants.  With 32 sessions in four distinct tracks, attendees could tailor the conference's education offerings to their individual needs to build a custom experience.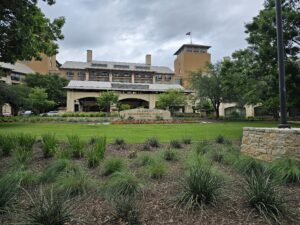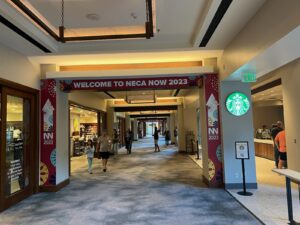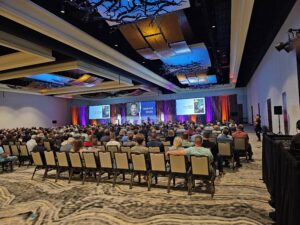 Continuing Ed Continues
NECA offers a range of training programs to help electrical contractors and industry professionals improve their skills and stay up to date with the latest developments in the field.  Two national programs, SET and CATS, provide NECA higher ups with useful information to help support their local chapters.  
This spring, NECA Nebraska Chapter staff member Dana Penning joined Bunach and Bryson in Washington D.C. to attend SET and CATS programs, which are highly regarded by industry professionals.  What they learned in D.C. will benefit chapter members here in Nebraska.
SET, or Staff Executive Training, focuses on leadership development, financial management, legal and regulatory issues, and communication strategies.  
CATS stands for Chapter Administration Training School and instructs chapter executives and the staff of home builders' associations.  This instruction covers membership recruitment and retention, event planning, communication strategy, and advocacy.  
But continuing education is not exclusive to leadership.  All Building Omaha members can advance their skills through NECA Learning Center.  Educational paths are customized according to student interest and needs, and courses are online or in person.  
Given the many avenues to learning available to members, Building Omaha equals advancement.
——
Building Omaha is the partnership between the National Electrical Contractors Association and the local chapter of the International Brotherhood of Electrical Workers and is committed to the continued development of its members.