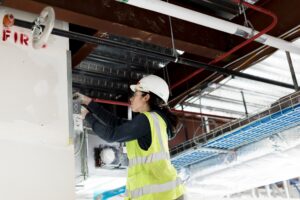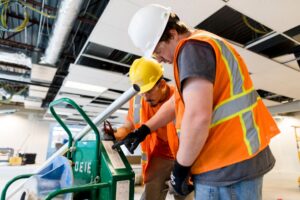 Contrary to a popular ad campaign, the world does NOT run on Dunkin'. It runs on energy. And because it runs on energy, the world will ALWAYS need electricians. So, while you could learn the trade anywhere and practice with any electrical firm, Building Omaha is the number one choice. 
Here's why.
1. High Quality of Life:  High paying electrician jobs are plentiful with Building Omaha.  On average, Building Omaha electricians earn more than their non-Building Omaha counterparts. They enjoy a comprehensive benefit package, with 100% funded medical coverage for members and their families, and 100% funded pension for retirement. 
But don't take our word for it. Here is what Building Omaha's new recruits have to say:
   

"Weekly pay keeps my family moving forward."

   

"Generous wage and benefit package"

   

"Across the board, my life has changed."

   

"Least amount of stress I've had in years"
2. Brotherhood:  Building Omaha is a partnership between the National Electrical Contractors Association (NECA) and the International Brotherhood of Electrical Workers (IBEW). Our members enjoy the support of a community.
According to our members, Building Omaha is populated by:
And Building Omaha creates:
3. Provides Skills and Advancement in Life: Building Omaha's apprenticeship program is an "earn as you learn" program. You'll acquire career skills that will provide for you and your family while you're paid a salary. It's hands-on learning from pros on apprentice electrician job sites.
Our apprentices describe Building Omaha and its apprenticeship program as:
4. Good Work Environment: We not only provide phenomenal benefits and training, but we also strive to create a welcoming, supportive and safe work environment. We are a brotherhood, after all!
Consider these comments by our newest recruits:
   

"Hours make my life easier."

   

"Positive co-workers"

   

"Bigger projects"

   

"Better working conditions and positive atmosphere"
5. Job Security: As a member of IBEW Local 22, you'll enjoy an incredible safety net provided by the network of union contractors that includes 40-hour work weeks with optional overtime opportunities up to 58 hours a week. You'll have secured employment with a variety of local contractors on a range of electrician jobs in Omaha as opposed to working exclusively for a single company or employer on the same types of projects.
But one of our new recruits says it best:
We welcome those new to the electrical field and seasoned pros. Propel your career with Building Omaha, the Partnership that Powers the City. Learn more about our apprenticeship program and career opportunities for current electrical professionals.