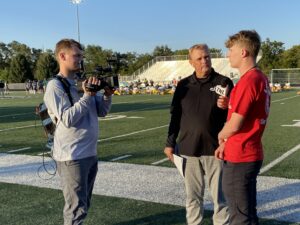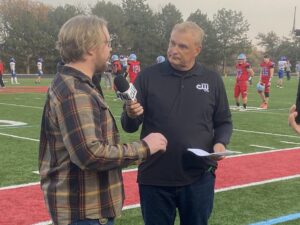 The high school years are chock full of activities, and student-athletes are among the busiest in a student body. They balance academics with rigorous practice to perform their best and represent their school in the classroom and on the playing field. In addition to talent and solid time management, excelling on the court takes dedication, drive, and direction. 
For the past several years, Building Omaha and FOX 42 KPTM have joined forces to recognize the metro area's star student-athletes in the Thursday Night Lights program. Teachers and principals in metro area schools nominate standout student-athletes, and each week in autumn two of these nominees are recognized as Scholar-Athletes of the Week and featured in the weekly Thursday Night Lights spot. From this pool of worthy candidates, one outstanding student is awarded Scholar-Athlete of the Year.  
This year's recipient is Neyera Abdessalam, a senior at Omaha North High School. Abdessalam is a triple sport athlete, participating in soccer, track, and cross country. She has been recognized by the Nebraska Coaches Association and named on the Class A Super State Team list. 
Omaha North athletic director, Eric Johnson, says Abdessalam is a leader on the playing field and "a great representative of North High School." Her teachers call her "very goal-oriented."
Barry Mayfield, business manager at the local International Brotherhood of Electrical Workers (IBEW), presented Abdessalam with the honor, which carries a $3,000 scholarship earmarked for future educational needs.
"It's great to be part of the community and be able to do something to help our young athletes," Mayfield says. 
Abdessalam will use her award toward college expenses. She plans to study astrophysics and hopes to work for NASA one day. 
"I wasn't really expecting this, and I couldn't be happier to be receiving this," Abdessalam says.
Congratulations to all the stellar scholar-athletes honored during the 2022 Thursday Night Lights program. You have made your families, schools, and community proud.  
International Brotherhood of Electrical Workers (IBEW) Local 22, along with the National Electrical Contractors Association (NECA), forms Building Omaha, a partnership that powers our city.